I sing wherever I'm invited, at clubs, festivals, people's houses, weddings, funerals, christenings, at home, down the road and over the sea. I have sung all over the UK and Europe.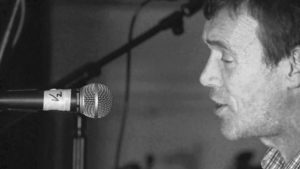 I have sung at festivals including Whitby Folk Week, Sidmouth FolkWeek, the Fife Traditional Singing Festival, Brosella Folk & Jazz Festival (Belgium),  the South Roscommon Singers festival (Knockcroghery) and the Frank Harte Festival (Dublin) – where I shared a stage with Christy Moore.
I have been invited to folk clubs including the Cellar Upstairs, Walthamstow Folk Club, the Musical Traditions club and the An Goilin club in Dublin. I have toured with Ron Kavana and Sam Lee, all around England, Scotland, Wales and Europe.
Get in touch if you'd like to book me for a gig.
I also been working in schools for several years. I offer song and story sessions to for children of all ages, which are highly engaging and raise awareness of the traveller community. For schools this can link into projects in literacy, geography, history, music and PSE. I have even worked in classrooms where there are kids from gypsy and traveller backgrounds, which is particularly special to me.
To be able to tell children the wonderful stories I learnt from our people, the travelling people, that my family passed down through the generations, is a joy. I find nothing more rewarding, that when a child asks me for a story, seeing their eyes light up at stories about fairies, hunchbacks, banshees, druids, Finn McCool and Cuchulain.
These stories are too often forgotten, but are an important part of our heritage, kept alive by our ancestors. Stories are still so important, they can keep you grounded in a world where people have forgotten the art of communication and conversation and the kids are all on mobile phones and computers. These old stories are relevant to all people, adults and children, immaterial of ethnicity.
If you'd like to have a chat about what I could do for your school, do get in contact with me.
I am also happy to talk to conferences and meetings about the stifling racism travellers face day to day here in England and in Ireland. It is often ignored, much coming from the media who have never represented the travelling or gypsy people fairly. You can see this in the explosion of biased TV shows focussing on us in the last few years. You'd think they come across a long lost tribe!